Online Learning
Welcome To EAcademy! Online Learning Center
A Canada-approved online driver education program exclusively for teenagers and families in New Brunswick.
Register for Online Class (Nova Scotia)
Online Learning
WE'RE EXCITED
TO TEACH YOU HOW TO
DRIVE SAFELY!
LEARN AT YOUR PACE, ON YOUR SCHEDULE, AND WHEREVER YOU WANT! AVAILABLE TO ALL STUDENTS IN NOVA SCOTIA!
You may sign up by clicking any of the links for our Nova Scotia locations.
TOO MANY AFTER
SCHOOL ACTIVITIES?

GOT WORK? NOT A PROBLEM!
Online learning is perfect for the busy teenager and the parent who has one. Many people wrongly assume that classroom learning is better than online education, but this is incorrect.
Fundamentally, EAcademy, our online learning program, was built with progressive learning in mind. This means – basically – in order to make progress in the program, students must demonstrate retention of the information that was learned.
In a classroom setting, it can be difficult to gauge the exact progress level of each student; however, online learning fixes this as well. If you need to retake a lesson, fine! Just restart the course and try the test again.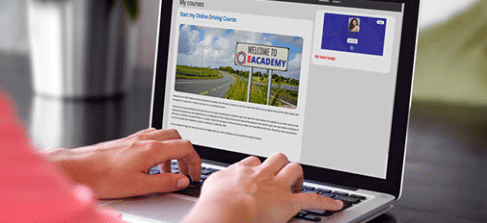 The importance of convenience for online learning also cannot be overstated. Many teenagers and families have multiple obligations on different days of the week, and it may be challenging to balance them all. By learning on your own time, you're able to dedicate quality time, when you have the time, to proper learning. Even better, after completing the online course, our professional driving instructors are available for 1-on-1 driving sessions on your schedule. This further reinforces the online learning and continues our trend of customized learning.
The best way to learn to drive is through paying attention and repeating good habits with a qualified instructor. EAcademy is exactly what busy teenagers and their parents have been looking for!