SUSAN STEEVES
(President)
Susan is a graduate of Atlantic Baptist College and Mount Saint Vincent University. Susan had a long (20 + years), successful career in hospitality sales. An entrepreneur at heart, Susan made a career change in 2012, in order to rebrand and develop RightLane Driver Training throughout Atlantic Canada. She is the co-owner of RightLane Driver Training with her husband, Tony Reeder. Susan has two children and she has been a Certified Driving Instructor with the Province of New Brunswick for 4 years. She believes and understands that not everyone learns the same way. She is a firm believer that we as educators must be able to adapt the learning model to the individual, not the other way around.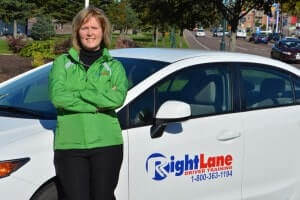 GARY
Manager Of Operational Excellence – HRM
Gary Spears joined the RightLane team of instructors in February 2014. Gary is a graduate from Queen Elizabeth High School, Dalhousie and the University of Alberta. After thirty-two years with the Halifax Regional School Board and retiring as a Junior High School Principal, Gary has joined RightLane Driver Training. Gary has always had a passion for driving and has been an advocate for defensive driving and road safety whether he is riding his motorcycle, car, or more recently, behind the wheel of a double-decker bus.
Gary works closely with our entire team of Instructors throughout Nova Scotia. He not only trains our Instructors as the Lead Instructor for our Driver Education Instructor Course, he works closely with our entire team of Instructors, focusing on consistent quality delivery in the car and in the classroom. He also ensures Operational Excellence of all our Nova Scotia Programs. Gary is most content when he is touring on his motorcycle. Presently, he is a member of two motorcycle associations: BMWONS and BMW MOA.
MICHELLE
Operations Manager, New Brunswick
Michelle is the cheerful voice that answers the phone from head office during the weekdays. She has worked for RightLane Driver Training for over 16 years at head office. She also plays an active role in their Commercial Vehicle Division, Trans Canada College. Michelle enjoys scrapbooking and spending time with her husband and son in her off hours.
CRAIG
Instructor – Miramichi
Craig is a new instructor with RightLane Driver Training who works part time out of our Miramichi location. He is active in his church and community. He is also a teaching assistant in the Anglophone North School District.
CRYSTAL
Instructor – Miramichi
Crystal has lived in Miramichi for 8 years. She began teaching driver education in 2008 with another driving school in Miramichi and in 2011 joined the RightLane Team as an in car instructor.
JOANNE
Instructor – Greater Moncton Area
Joanne has been a driving instructor for one year with another driving school and employed with RightLane Driver Training for the past two years. Prior to this, she worked as an office administrator as co-owner of her own used car business.
VICKIE
Instructor – Hampton/Quispamsis
Vicki has been with the Rightlane (former GW) family for the past 14 years. She covers the Hampton and Sussex area. She works part time as a driving instructor, evenings and weekends. Vicki is also very active with Youth Sport in the area where she resides and has two sons that have also taken drivers education with RightLane.
TOM
Instructor – Greater Moncton Area
Tom has been a driving instructor with RightLane Driver Training for the past two years. He is originally from the UK where he served in the military, law enforcement and management. During his military career, he was a driving instructor for small and heavy vehicles including track vehicles.
Larry
Instructor – Oromocto
Larry has over 20 years of military experience in the transportation trade as a driver trainer and driver examiner. He also has an additional 20 years as an MDO at Base Gagetown training and testing military and civilian drivers. Larry loves and still plays most sports, with the real passion for curling which he has been teaching and coaching for over 30 years. Larry really enjoys helping someone who wants to learn, with the reward being a smile on the students face.
DAVE
Instructor – New Glasgow
Dave has been instructing with RightLane Driver Training since 2015 in New Glasgow. Before this he spent time in different roles as a Behaviour and Skills Development Instructor. This was accomplished in residential, community and educational facilities with various populations of at risk individuals and youth. Dave enjoys the aspects of teaching skills and transferring those skills over to other areas of a person's life to help improve the quality of life the individual has.
Laurie has been educated in electronics from Halifax Regional Vocational School. He began working for the Province of Nova Scotia (Dept. of Transportation) in September 1971. Laurie remained employed with the province for 33 years 5 months, when he retired. In 2002, Laurie started to work part-time for his brother, who owned Sackville Driving School. He has also taught grade 5 & 6 Sunday school, and was the Property Committee Chairman for All Saints Anglican Church in Bedford for 4 years. Laurie currently volunteers at Maplestone Senior Home in Halifax, as she has done for over 20 years. He has taken on the role at the home as Volunteer Auxiliary President, where they have Wednesday evening programs.
Laurie enjoys playing sports, and is involved in a gentlemen's hockey league. He also enjoys walking and spending time with his dog.
TROY
Instructor – Miramichi
Troy Adams has been a driving instructor since 1997 with the former Brunswick Driver Training, owned and managed by Mavis Willamson. He joined RightLane Driver Training in May 2012.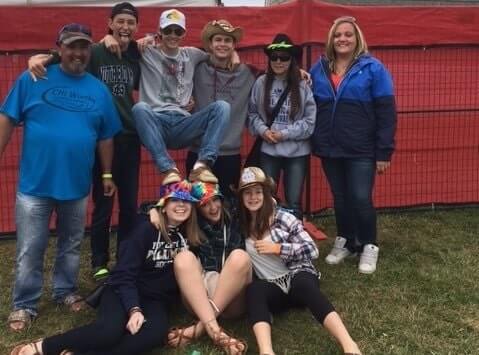 CAROL
Instructor – Oromocto/Fredericton
Carol is a retired civil servant with the Provincial government. Throughout her career, she has held many management positions and has even owned her own company in the past.
In 2008, Carol decided to take Driver Education training and has been a driving instructor ever since. She still enjoys it and believes that being with young people helps her to stay younger, both in her thinking and her physical well-being.
Carol has traveled extensively within Canada, United States and loves New Zealand. In her spare times, she enjoys spending time with her her family which includes 6 grandchildren and (1) great grandson.
Laura
Instructor – Sussex
Laura first started teaching drivers ed in 2008 in Saint John and moved to Sussex in 2015. She enjoys teaching drivers ed because she gets the opportunity to meet many different people and to help them succeed. Laura loves to learn about different people and cultures. She has a BA degree, focusing on Sociology and International Studies. She enjoys travelling and has been to Asia, South America, Caribbean and the Middle East- she hoping to visit Europe next!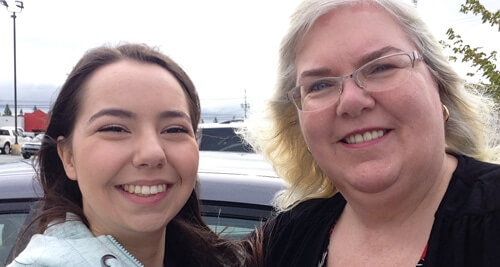 Vicki joined the team as an instructor in September 2015. She comes to RightLane with a Masters in Education degree from Mount Saint Vincent University (focused on lifelong learning) and a wealth of experience on the roads; whether it be on two, three or four wheels. She is an avid motorcyclist and a member of Motor Maids; a North American women's motorcycling club that recently celebrated its 75th anniversary. Her more than thirty years in the broadcasting industry has taken her from coast to coast behind the wheel — a Nissan Sentra headed west and a VW Golf GTI headed east — and one of her favorite pastimes is touring our beautiful province. In the classroom or the learner cars, Vicki hopes to instil the importance of defensive driving while also fostering a love for driving itself.
A born teacher having taught over 1000 students thus far, Andrew is an effective driving instructor. This, he believes, is achieved by focusing on and coaching to SUCCESS. Andrew has been driving for almost 26 years, and took drivers education in high school. He also drove through every major city in North America, when he was 20 years old. Driving has always been his thing! Andrew looks forward to seeing you in the drivers seat.
Laurie enjoys playing sports, and is involved in a gentlemen's hockey league. He also enjoys walking and spending time with his dog.