Vehicle spring maintenance/cleaning checklist
There are signs that spring is here; the snow melts, the grass starts to turn green, and the days get longer. If you're car people like we are, you can add 'getting your car Spring Ready' to that list. Spring prep for your vehicle is an opportunity to get rid of the dirt, grime, and garbage that may have built up over the winter, and giving you an opportunity to start fresh with a clean car that's ready for your next adventure! Check out the RightLane Spring Vehicle Checklist to find out what YOU can do to make your spring road trips fantastic!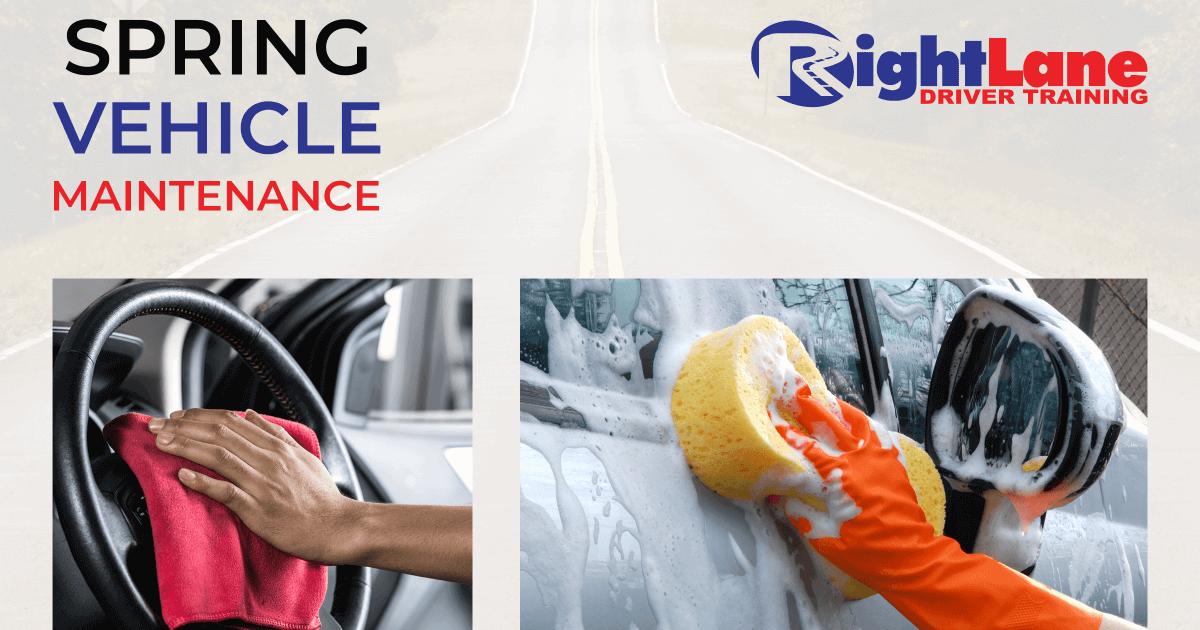 Clean the Outside
Over the winter, the outside of your car has taken the worst of it. Salt, ice, and snow, have all put some wear and tear on the body of your vehicle. Start from the bottom of your vehicle and work your way up, getting rid of that salt buildup. If crawling under the car with a hose is unappealing to you, a touchless car wash with an undercarriage wash might be a better option for you.
Wax On
Give the exterior of your car a fighting chance this spring and into summer by applying a layer of wax. It adds an extra layer of protection against bird droppings, tree sap, UV rays, pollution, and much more. For longer-lasting protection, try a synthetic polymer-based wax.
Tires
The soap you use to wash your car will not clean your tires as well as a dedicated tire cleaner, so ensure that you apply some to the shoes of your car. While you're down there, check the tread, and the air pressure. Remember; your tires are the only part of your car that touches the road. They need to be in good condition to keep you safe.
Wipers
Windshield wipers should not be left to wear out. They should be replaced on a regular basis, preferably every six months, or in spring, and again in the fall. As soon as you notice them skipping or streaking, it's time to swap them out. While you're replacing them, take a look at your windshield for cracks. Those should be fixed as soon as possible.
Clean the Inside
All winter your boots and shoes have been dragging salt, dirt, snow, and ice into your vehicle. Get in there with a shop vac to get the dirt and salt out from your floor mats, and in between the seats. Then use upholstery cleaner for your seats, and a cleaner for hard surfaces to get your vehicle looking good as new!
Do you have questions about keeping your car looking great for the spring? Or are you ready to upgrade your skills and get on the road? We'd love to hear from you!